The Dubstep Drumpads Guru app is a free Android
app for making Electronic
,
Dubstep
and
Trance
music
. By all presets to be judged, it is
not just dubstep
as not all of the presets are really dynamic. The sounds thought are all amazing, and do not interfeere with each other, as the app has great multimedia polyphony. The app is usable both on small and large devices as long as they have recent
Android OS versions
(
4.0 and up
). Dubstep Drumpads Guru has a
3x4 pad grid
than can be presetted to
many sounds
. There currently are 6 presets that you can download for this app directly from it and use them from the menu. The menu features a recording to
.wav
i
con,
a settings
icon,
a metronome
you can set the volume for and a sequencer you can start and stop here. There is an
8x8 grid
with sounds you can sequence and that do not interrupt the live playing. The Dubstep Drumpads Guru app is a really great to use app as it has a lot of features that you do not find on all the apps from Google Play, especially for free and can be used as an actual sampler.
---
Powered by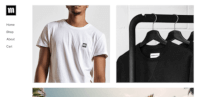 Create your own unique website with customizable templates.